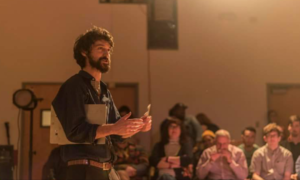 Today we'd like to introduce you to Josh Berkowitz.
Thanks for sharing your story with us Josh. So, let's start at the beginning and we can move on from there.
I had been performing twice a year at Electric Lodge since 2015. I had known it was an experimental theater so I would bring a watermelon or wear a cowboy hat and riff on uncomfortable subjects like heartbreak and sexuality. I slowly got to know the Electric Lodge family and was eventually asked to run their volunteer program. I spent a good six months helping out with administration and got to know Dr. Joel Shapiro. I asked him why our theater was called the Kelman Theater. Every Friday, Joel and I would meet to work on a specialized movement technique that he had studied with master teacher Scott Kelman for a decade. It was the exact visceral, non-liner, intuitive approach I had been looking to embody for a long time. For the last year, I have been so lucky to be able to program a lot of events including our monthly first Friday show High Voltage as well as the Lightning Series, which was a three-weekend, 9-night festival devoted to alternative performance in Los Angeles. I've basically been working to build a hybrid community of everyone from variety entertainers to physical theater artists. We specialize in the absurd, the surreal and the immediate.
Great, so let's dig a little deeper into the story – has it been an easy path overall and if not, what were the challenges you've had to overcome?
This has been the most synchronistic and well-timed community service I have ever been able to do. I was really never someone that was altruistic, I was a pretty self-centered performer for a long time. I used to really need the validation of at least a dozen people a year telling me that my work was genius. Now I get to hold space for other artists all the time. I get to be a mature force in the room. The facilitator with the clipboard and the people I curate still know I'm a wild man who understands that the creative process is super emotional and highly personal and sometimes tortuous. And then I can also be a producer and use logic and deal with business, responsibility and how in the world to sustain a life in the arts, and to support those who are also really driven to do that. It's quite anxiety-provoking to fight every day to keep a community moving forward, especially with Venice Beach becoming quite sheek. The old school authenticity seems to be often threatened but I have a feeling we're not going away.
Electric Lodge – what should we know? What do you guys do best? What sets you apart from the competition?
The Electric Lodge is a non-profit organization devoted to arts and the environment. We are one of the very first solar powered theaters in the country. We are right off Abbott Kinney on Electric Ave. between California and Milwood. What's surprising to many people is how big our facility is for such a specialized cause. We have a 99-seat theater, a dance studio and classroom space. I currently serve as the Associate Artistic Director and spend a lot of my time scouting for unusual performers with a hell of a story and process behind their work. When I do our first Friday High Voltage show I always make sure to meet with each performer that week to really get to know them and make sure they feel supported on an emotional-spiritual level. It also helps me to build lineups of performers and get in touch with my intuition on how the night might feel if I put a more manic personality opening up the night or before intermission and maybe a more low energy depressive type performer who can make the audience feel deep down. Or maybe something really shocking to leave everyone upset or maybe something super inspirational to pump everyone up. We've ended nights with performances in the parking lot. We had a guy once stapling dollar bills to his body. We had a whirling dervish two months ago which made everyone feel wonderful and most recently a drummer with an interpretive dancer where the audience was able to loudly shout and holler. We try to really hit home runs as often as possible but it's really that we're just letting something happen here. Holding space for whatever needs to be brought forth. It's a spontaneous, continuously revolving community over here at Electric Lodge. People feel like they really get to witness and experience things they would not have gotten to otherwise. I try to mash together communities that may not have seen each otherwise. A dancer living on the Westside in a show with a Clown living in Silver Lake. And everyone in between from wherever. I even scout for creative talent up in Ventura.
What moment in your career do you look back most fondly on?
Getting to direct a show last August called H2Ode: an offbeat tribute on water. That was definitely a high moment. I was a surprised how uplifted the audience felt when usually my work is pretty dark. I think a lot of the inspiration came from the 9 different performer groups I got to work with for two months each. We got to explore the subject of water from whichever angle began to arise. One piece was a mermaid exploring aging, a hockey player exploring sensitivity, a surfer riffing on climate change, a juggler juggling water bottles, a steamy cabaret. It was an original Electric Lodge production and opened up the floodgates for so many more opportunities for niche performers who usually do not get the license to go as severe or silly as they'd really like to. It allowed me to commit to a vision that was somewhere in between a lot of genres.
Published May 30th on VoyageLA